Wigan 10k & Family Mile 2020 - COVID-19 (Coronavirus)
A STATEMENT FROM OUR ORGANISING CHARITY JOINING JACK
It is with huge regret that, with a little over eight weeks to go before the 8th Wigan 10k and Family Mile, we have taken the decision to cancel the event.
As a charity and as event organisers we are absolutely heartbroken.
Throughout the Lockdown period, we have been monitoring closely all reports and advice from local and national governing bodies and UK Athletics, and have also been taking guidance from our traffic management and safety advisory teams and the charity's trustees. As the nation gradually eases out of the tough restrictions introduced to stop the spread of COVID-19 Coronavirus, we have explored the restrictions remaining in place and guidance surrounding mass participation events. We now feel we have been left with no other choice.
As a charity and as an event organiser, we have a duty of care to our runners, volunteers, sponsors, partners and supporters and, without sufficient clarity from the Government and Scientific guidelines, and without indication that large numbers are able to gather safely without the risk of a second spike, we feel we can no longer ensure the community's safety and our event and charity's integrity, by allowing the event to go ahead.
But, we have a plan.
The 2020 8th Wigan 10k will now take place as a Virtual Event
We are planning to stage the 8th Wigan 10k as a Virtual Event throughout September and October 2020. We hope that this will allow ALL our runners to stay firmly focused on our event in the Race Calendar and also earn our fabulous new 10k medal featuring a very special thank you to all our NHS and care workers from our Event Mascot, Jack Johnson, the inspiration behind Joining Jack.
As many of you will be aware, Jack and his family, have been shielding at home since Lockdown, and would not be allowed to attend the event even if it was safe to take place. Jack, and the JJ Team, wanted to give a special nod to all the people who have worked so hard over the past few months to keep the country safe.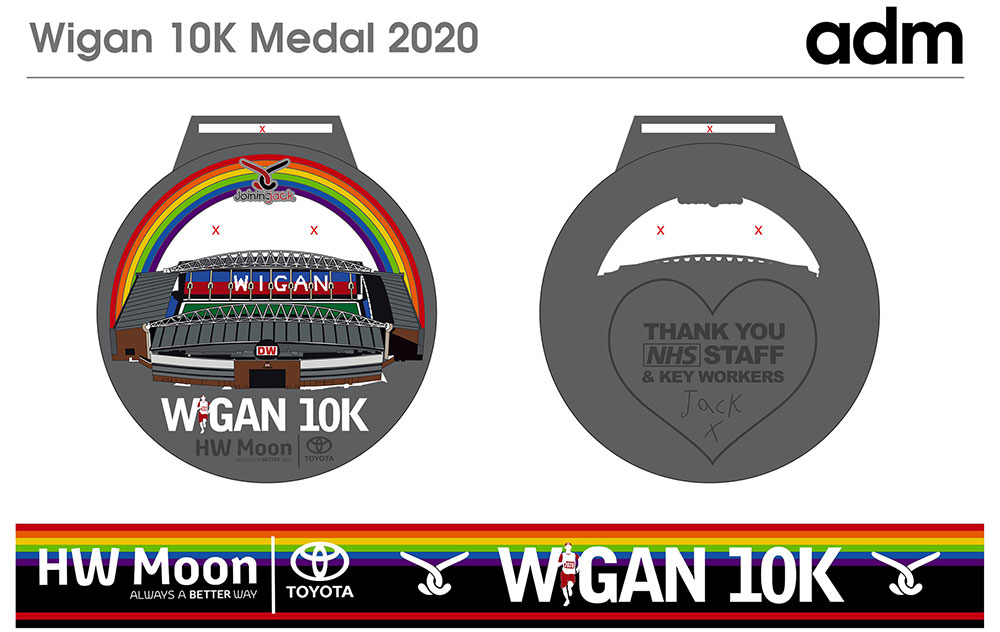 What a Virtual Run mean for you:
Your entry is safe and will be automatically transferred to the Virtual event
You will have until October 31st to complete your virtual 10k
We ask that you provide evidence of your Virtual Run, either a photograph, video or Strava screenshot on email to info@joiningjack.org
Medals will be posted out from the end of September
As a registered runner, and as a thank you for your support with the Virtual Run, you will also receive a 50% DISCOUNT code for the 2021 Wigan 10k
If you have ordered a special edition Wigan 10k 2020 T-shirt, you will receive a separate email giving you options for a refund or to transfer your order over to 2021
Registration for new runners will remain open until August 31st at the reduced fee of £15
We want to take this opportunity to apologise to and thank all our amazing runners and supporters for any inconvenience caused. As a charity whose chief fundraising strategy is based on mass participation events, we have been left shell-shocked by the events of 2020.
We have already incurred costs for the 2020 event which we will need to cover for the event to continue in the future.
However, we understand that there may be some runners who may not wish or feel comfortable completing their entry as a Virtual Run. In this case, we would like to offer an alternative option:
Defer your entry to the 2021 Wigan 10k
If you would prefer to defer your entry to 2021, we ask that you email the Joining Jack team with your decision on info@joiningjack.org no later than Friday, July 31st.
We have also taken the decision to cancel the Wigan 10k Family Mile. Due to the admin costs involved, this race WILL NOT be offered as a Virtual Race and all entries will be automatically transferred to the 2021 race (date to TBC).
We are incredibly grateful for everyone's support and patience as we all digest and come to terms with this announcement. We hope that along with the Joining Jack and Wigan 10k team, you are able to be part of and enjoy the Virtual Event. We look forward to seeing all your photographs and to everyone coming together again in 2021.
Matt Johnson, Race Director, on behalf of Joining Jack